SOUTHCOAST ESTATE PLANNING BLOG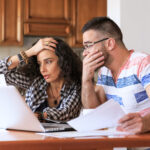 If you live in Massachusetts and you can't find the original deed to your house or other real estate, there's no real need to worry. As long as that original deed was recorded at a Registry of Deeds or in the Land Court, you don't need it.
Deeds aren't like titles to a car. If you own a car in Massachusetts, you know that you have to sign the back of the original title to transfer the car to someone else. So, when you lose the title to a car, it's a big deal and you have to request a "duplicate title" from the Registry of Motor Vehicles.
Let's Review Real Estate Deeds and See Why It's Not a Big Deal that You Can't Find the Original.
In Massachusetts, a deed is the legal document used to transfer ownership in real estate. To be valid, it has to be signed by the owner of the property who's transferring it (called the "grantor") and the signature needs to be notarized. It also must identify the person or entity who is receiving the property (the "grantee"). In Massachusetts, lawyers generally use "quitclaim deeds" for real estate transfers.
Once the deed is signed by the grantor, it gets recorded in the Registry of Deeds in the County where the property is located. If it's "registered land," the deed is presented to the Land Court in the Registered Land Office at the County Registry.
When the deed is recorded, there's now public proof that the ownership of real estate has been transferred. Anyone can look up the deed for any piece of real estate that has been recorded in Massachusetts. This is one of the reasons why it's not important if you can't find your original deed.
Whenever there is a transfer of real estate, though, a new deed is drafted. This is another reason why it's okay that you can't find your original deed.
In our estate planning practice, we frequently prepare quitclaim deeds. When creating a living trust for clients, we'll transfer real estate into the trust by granting it to the trustee. When Probating an estate, we'll prepare deeds for the Personal Representative (formerly known as the "executor") who is selling real property or transferring it to the heirs.
So, if you can't find your original deed, don't fret. If you need help with preparing a new deed, whether it's to put the house in trust or because of Probate, just reach out to us. Our entire team is here to help!